It's not easy to find a good and affordable hotel in an exotic country that you know nothing about. Doing the research alone can be a logistical nightmare, especially if you don't know exactly what you're looking for. Let's help you out with that!
Residence Royale Hotel is the most prominent hotel in Cap-Haitien, providing clients with outstanding amenities, affordable prices, impeccable customer support, and easy access to Haiti's most prominent sites. These assets make Residence Royale Hotel in Cap-Haitien, Haiti, the most sought-after location for tourists all over the world.
But what exactly should you expect at our hotel and how will our services improve your traveling experience?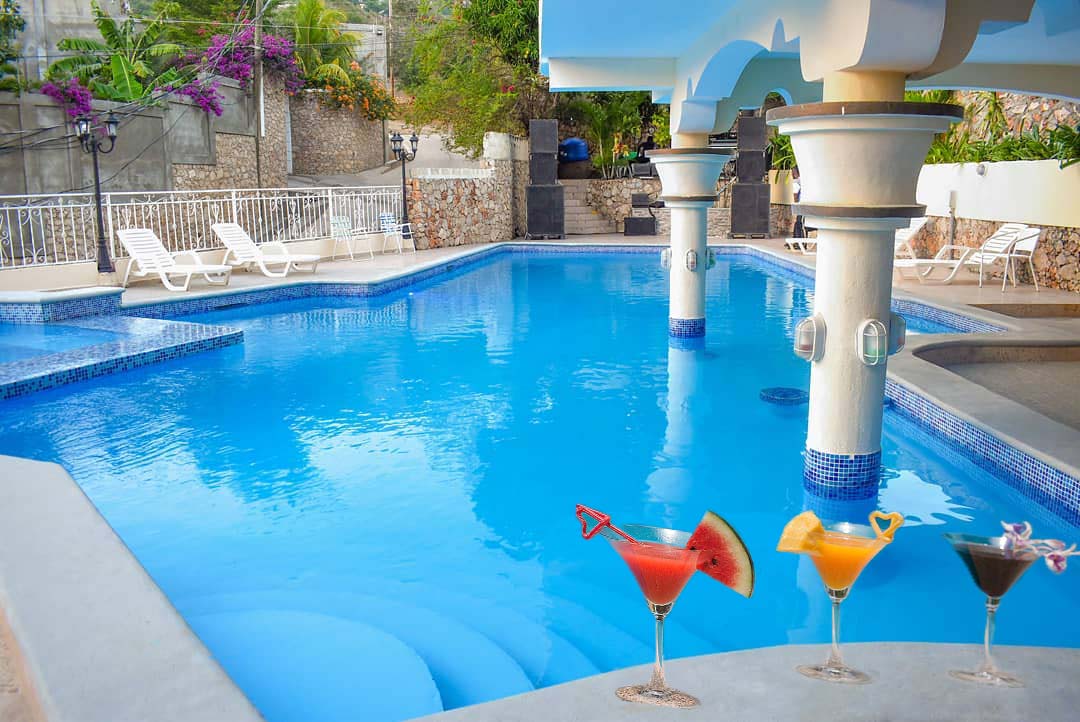 A Luxurious Experience
We care about your comfort above all else, because we want to win you over as a returning customer. So, we offer a multitude of amenities, such as:
Tasty and diverse cuisine – Not everybody has the same food preferences. Some would rather go for European dishes, while others lean more towards the American cuisine. And others are more adventurous, preferring to try local dishes like Creole or Caribbean. We can accommodate all of these tastes thanks to our chefs' unparalleled experience and skill and our diverse menu. Haitian food has never tasted better.
Perfect relaxation opportunities – We're talking about cozy and clean rooms, a comfy outdoor pool, 24/7 wi-fi and air conditioning, an exotic bar, shuttle services, rent-a-car services, shared lounge and TV area, and much more. Our hotel has everything you need to relax and enjoy your stay.
The perfect setting – Residence Royale Hotel is placed in the perfect location. We're right next to the airport, have a variety of high-end restaurants nearby, and we're one stone-throw away from the most prominent touristic attractions in Cap-Haitien. Plus, we offer airport shuttle and guidance in case you need information about the nearby attractions.
Proficient and Respectful Staff
We work with experienced people who serve our interests better than anyone. They will work relentlessly to provide you with respect, comfort, and impeccable services and support. You need someone to guide you to the nearest touristic attractions? We're here for you. You require personalized services, depending on your accommodation preferences? State your preferences and our staff will do its best to help out.
This is only possible because we're self-perfectionists, always trying to improve ourselves. It's what allows us to provide our customers with unforgettable experiences and unparalleled support and assistance.
The Ideal Location
Not all hotels are created equal, from the amenities available, to the hotel's structure and service quality, and all the way to the location itself. When going on vacation in an exotic country like Haiti, you want to be as close as possible to the main attractions in the area. You don't want to waste time moving to and from your preferred touristic sites, because time is precious. Especially if you don't plan on returning anytime soon.
This makes Residence Royale Hotel perfect for your needs. We're located in the heart of Cap-Haitien and provide you with easy and direct access to the most prominent nearby touristic sites. These include attractions like Cathedrale de Notre Dame de Cap Haitien, Cathedrale Square, Heros de Vertieres, and many more. You can even visit some of the nearby restaurants if you want to try out dishes that are not on our menu.
If you've already packed your bags for the trip, give us a call, book online, and we'll take it from there. Our team is ready to lift you at the airport and transport you to our hotel, where your true Haitian experience can begin. We're one phone-call away!