Nestled near the enchanting city of Cap-Haitien, Haiti, Residence Royale Hotel offers its guests an unparalleled experience of elegance, comfort, and unique adventures. Step into a world of luxury and immerse yourself in the refined atmosphere, first-class amenities, and outstanding service our hotel proudly provides.
Call us at +509 2230-1316 or at +509 3445 4545 to book a room or obtain more information about our hotel!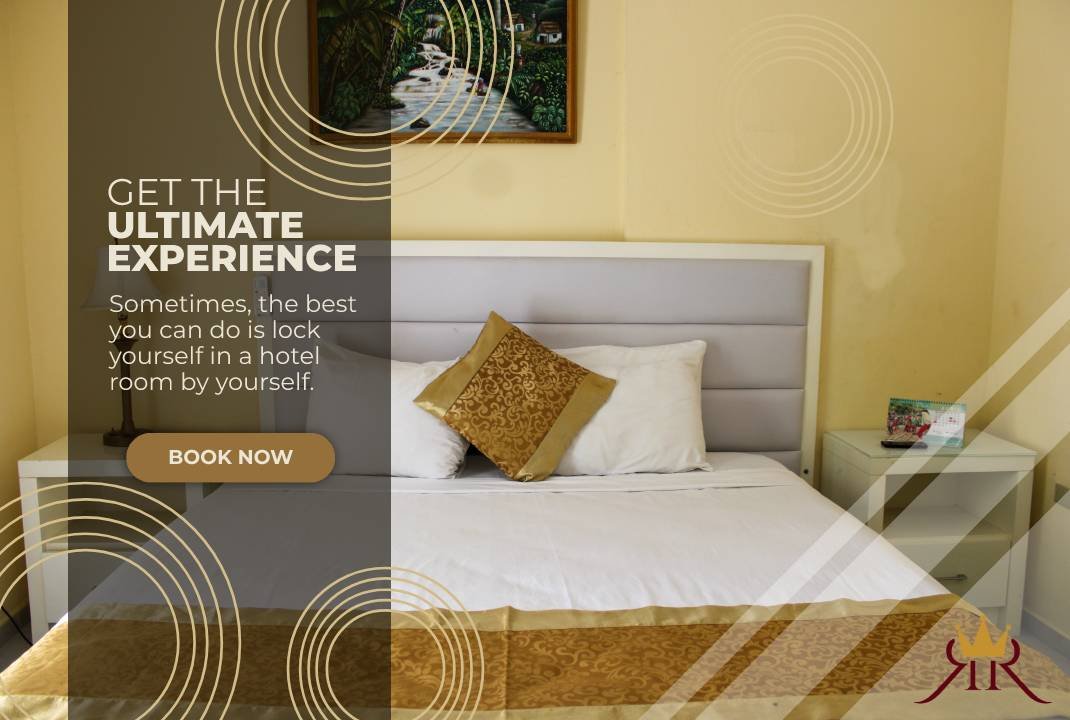 Luxurious Accommodations
Residence Royale Hotel presents a diverse selection of elegant rooms and suites, each designed to cater to the refined tastes of our guests. From the plush bedding to the contemporary furnishings, every detail has been carefully selected to provide the utmost comfort. Bask in the breathtaking views of the vibrant Haitian landscape as you unwind in your private sanctuary!
With attentive 24-hour room service, you'll find a serene and personalized experience at Residence Royale Hotel. Aside from the elegant décor, our rooms and suites come with all the amenities you'll need, such as high-speed Wi-Fi, sleek flat-screen TVs, and a careful selection of premium channels. Enjoy the convenience of in-room tea and coffee-making facilities, and indulge in our complimentary toiletries, designed to pamper and rejuvenate.
Exquisite Dining Options
Delight in Haiti's delectable cuisine, accompanied by an extensive assortment of international favorites such as:
Cajun & Creole Cuisine
French Cuisine
American Cuisine
Caribbean Cuisine
Buffet
A la Carte
Grill & BBQ
To enjoy a truly special dining experience, treat yourself to our chef's special creations, which celebrate Haiti's rich gastronomic traditions. Embark on your gastronomic adventure with a lavish breakfast buffet showcasing a variety of fresh fruits, baked goods, and regional delicacies.
As you go about your day, treat yourself to a delicious afternoon tea or unwind with a fine-crafted cocktail at our poolside bar. For an unforgettable evening, delight in a romantic candlelit dinner under the stars, accompanied by the soothing sounds of live music. Our skilled culinary team and attentive staff are dedicated to creating memorable dining experiences that showcase the vibrant flavors of Haiti and beyond!
Rent-A-Car Service for Exploring
Residence Royale Hotel offers an exclusive rent-a-car service for our guests to ensure you make the most of your stay in Cap-Haitien. With a wide range of vehicles, you can comfortably explore the beautiful surroundings and attractions at your leisure. Our dedicated team is on hand to assist you with any travel needs and recommendations, ensuring a seamless experience as you embark on your Haitian adventure.
Nearby Attractions and Activities
Cap-Haitien is home to many captivating attractions and activities, all within reach of the Residence Royale Hotel. Discover the awe-inspiring Citadelle Laferrière, a majestic fortress perched atop the mountains, boasting spectacular views and rich historical significance. Delve into the past at the Sans-Souci Palace, a testament to the grandeur of Haiti's former royalty!
Venture beyond the city to explore the lush landscapes, pristine beaches, and picturesque fishing villages that makeup Haiti's unique charm. Whether you prefer the thrill of water sports or the serenity of a leisurely hike, Cap-Haitien offers many experiences that cater to all interests.
As a guest of Residence Royale Hotel, you will also have access to a host of on-site recreational activities. Unwind by our sparkling pool or indulge in a rejuvenating visit to the sun terrace. Our attentive staff is always available to ensure your stay is nothing short of extraordinary!
Conclusion
A stay at Residence Royale Hotel in Cap-Haitien, Haiti, promises an unforgettable luxury getaway. Don't hesitate to take advantage of the opportunity to immerse yourself in the unparalleled elegance and charm of Residence Royale Hotel. Book your stay with us today and experience the ultimate luxury getaway in the heart of Haiti.