Ready to finally take that Caribbean vacation you've been dreaming about? What better time to do it than now? Few things are comparable to the pleasant warmth of a Haitian summer, and we know just the place to enjoy it all from – Residence Royale Hotel in Okap. Our hotel is the finest in all of Haiti, whether in terms of comfort or affordability!
We accept families, couples, and lonesome travelers alike, thanks to our extensive range of rooms. Call us at +509 2230-1316 or at +509 3445 4545 to book a room. Alternatively, use our online platform! Our dedicated staff is waiting to make your stay here memorable and enjoyable to the max!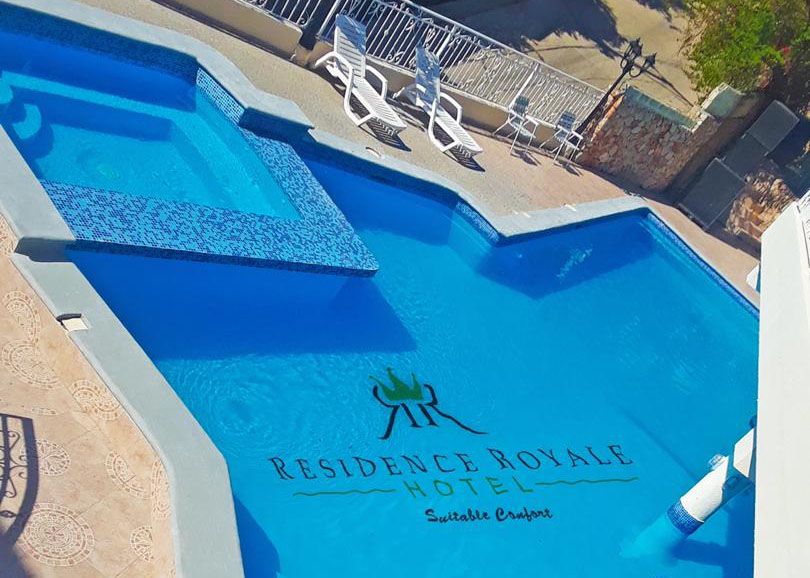 A Gem of the Hospitality Industry in Haiti
Residence Royale Hotel impresses through its wide range of amenities, first and foremost:
Free swimming pool open all year
Pool bar
Free Wi-Fi
Free and secure parking
Bar
Private bathroom
Sun terrace
Garden
Terrace
Restaurant: Breakfast, brunch, lunch, dinner, cocktail hour
Diverse cuisine: Cajun/Creole, Caribbean, International (French, American), Grill/BBQ, buffet, A la carte
Private check-in/check-out
Tour desk
24-hour front desk
Concierge service
Shuttle service
Shared lounge and TV area
Family rooms
Airport shuttle
Room service
Non-smoking rooms
Family rooms
Air conditioning
Daily housekeeping
Laundry
No age requirement for check-in
Cards accepted at this hotel
You won't lack anything while at our hotel. Our staff consists of hospitality industry veterans, so you'll be pampered to no end. Are you craving a wild and adventurous stay in Haiti? Then look no further than Residence Royale Hotel! Our superior amenities are the shining gem of the hospitality industry in Haiti, and you'll come to learn that yourself once you get here.
Affordable & Comfortable Experience
Ultimately, what sets Residence Royale Hotel apart from other hotels in Haiti is its affordability and comfort. Every client has unique needs, and our staff is instructed to consider that and provide a suitable experience for everyone! We spare no effort in ensuring our guests are treated royally while also trying to keep the costs reasonable.
Tired of all the traveling? Then, you should grab a cocktail from the bar and relax at the poolside, basking in the sunny warmth of a nice Haitian afternoon. Or, you can walk through the terrace and admire the environment. Our staff can also guide you to the nearest tourist attractions and help you figure out what locations you should visit first.
Buffets are available, and the shuttle service is always there to provide anything you need at any time. Our shared lounge and TV are also great places for some family time, especially for children. Needless to say, you'll love your vacation at Residence Royale Hotel because we won't have it any other way.
Your comfort and satisfaction are our top priority, and that'll always be true, no matter what!
Ready to Kickstart Your Caribbean Vacation?
If you need additional information about our hotel, then we invite you to call us at +509 2230-1316 or at +509 3445 4545. We'll answer all your questions and provide any information you require. Our front desk is available 24/7, so you can call at any hour, seven days a week.
Alternatively, if you want to book a room, our online platform is ideal for that. But you can also book a room via telephone, so don't hesitate to do so. We hope to see you here this summer!